Month:
November, 2015
There would no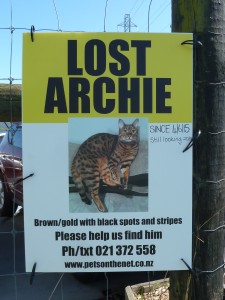 t be many people in both the Christchurch and North Canterbury areas that don't know this beautiful boy is missing. Archie is a two and a half year old Bengal and has been missing from his home in Ohoka/Manderville since the 4th June 2015.
The efforts his owners have gone to in order to discover his whereabouts are above and beyond. The giant size posters everywhere are simply brilliant. Thousands upon thousands of motorists must have seen the "Lost Archie" poster. It sticks in your mind, which means the poster is doing its job.
The owners have also advertised on www.petsonthenet, www.trademe, www.neighbourly, https://lostpetfinders.co.nz/pets/21245, Facebook, distributed flyers, emailed Vets and local schools, advertised on supermarket and community notice boards, door knocking, newspapers, SPCA, Cat Care, Council and rubbish contractors , conducted endless searches throughout their neighbourhood.
No stone is being left unturned in their quest to find out what has happened to Archie. You really get a true sense of how much Archie is loved and missed. How devastating it must be for them as it appears Archie has simply vanished without a trace.
There will be many pet owners out there who have suffered the same fate as Archie's family. Pets go missing all too frequently.  One preventative measure all pet owners should have in place is to ensure their pet is easily identifiable, should they get lost. Address tags on collars are one way, but collars can come off or be removed, so the best way is to have your pet micro chipped. Some local Councils will do this for free, or you can have it done at your Veterinary Clinic. If your pet has a microchip, there is a far greater chance they will be returned to you if found. There are two main microchip databases, the New Zealand Companion Animal Register and the Australasian Animal Registry. Your pet should absolutely be registered on one of these databases. Owners also need to ensure their contact details on the database are kept current. For example: if you change your address or phone numbers; if the animal you've registered has been re-homed.
Most radio stations also offer a free lost and found service so make use of them. Make sure all your neighbours know your pet is missing. Ask them to check garages and locked sheds. Stay calm, make a list and use all the options available to you, just as Archie's owners have done above. Don't give up hope. Some pets have been known to find their way home after many months absent.