Month:
July, 2016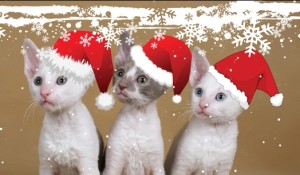 "What do you mean, there's no room???"
By now most reputable boarding facilities will be booked out for Xmas and have long waiting lists as we do here. At Ashley Boarding Cattery if you haven't booked your cats Xmas vacation by mid-Feb at the latest, you've pretty much missed out.
I am now getting frantic clients asking me "can I recommend another facility". My answer is NO. I will not recommend something I have not seen. What I will do however, is offer a list of suggestions, recommending to clients that they go and do their own inspection and due-diligence.
Understandably, not everyone has the luxury of planning holidays twelve months in advance and there will always be people rushing round at the last minute looking for a place to house their cat while they are away.
We all know what happened last Xmas with a certain cattery in central Christchurch. It was in the news and all over social media. Sadly, while our industry remains unregulated, backyard catteries will continue to "pop-up".
As a cat owner, it is your responsibility to decide if a facility is of a standard where you are happy leaving your beloved pet in their care. I personally am of the opinion that no last minute holiday is worth the welfare of your family pet.
That said; here are a few considerations that clients should be taking into account when looking at boarding facilities.
a). SIZE and DESIGN of units. Are they spacious, sunny, quiet, is there a view. What is provided in the unit – bedding, enrichment items?  Are there adequate sneeze barriers between units (I myself do not agree with communal catteries but as they currently remain legal in New Zealand, it comes down to personal choice).
b). SECURITY. Are entrance ways double-doored.  Adequate locks on cattery units. Windows secure. Are there fire/smoke/burglar alarms? Does the owner/manager live on site – very important; don't assume that just because there is a house on the property, that the occupants of said house are associated with the boarding facility.
c). KNOW EXACTLY WHERE YOUR PET WILL BE HOUSED; I cannot stress this enough. Make sure you are allowed to accompany your cat to their unit and help settle them in. If you are asked to leave your cat at reception – WALK AWAY, this is a huge red flag. In turn, if your cat is waiting for you in reception when you come to collect, that should be another red flag. If you are a little uneasy about what may be happening to your pet while you're on holiday, ask a friend/relation/neighbour or workmate to go and visit your cat. They should be able to turn up unannounced during public opening hours and visit your cat in your cats unit.
d). MEET OWNER & STAFF. Discuss any special needs your cat may have; diet, medication, attention, grooming, heatpad etc. Make sure you feel completely comfortable and at ease with the whole setup. And here's another important point. No one staff member should be looking after more than 25-30 cats maximum; if they are, you would surely be wondering, how much attention is my cat actually getting.
I hope this has been helpful…………..the important part ie. the final decision, is of course totally up to you, the cat owner.