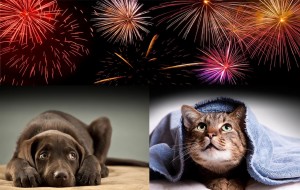 To know the background of this blog you will need to refer to our Cattery Facebook page on the 5th November. The following day I decided to write to the CEO of The Warehouse NZ and ask that they consider leading the way in the retail industry to ban the sale of fireworks. You can read that letter in my Facebook post on November 6th.
The letter and the post created a fair amount of interaction with a huge majority of people agreeing with me that the sale of fireworks should be banned to the general public, with only organised displays. The use of low noise fireworks only was suggested as a good option, and of course, as is the case with social media, there were a few nonsense comments and some supporters of the celebration.  However, overall an interesting exploration into people's thoughts on the subject and it was not hard to see which side the animal lovers were on!
As promised I am hereby posting Nick Grayston's reply to my letter. The content of which is somewhat not unexpected or as one lady put it ………. $$$$ before any ones well being.
Dear Donna
Thank you for your letter regarding the sale of fireworks.  I appreciate you taking the time to contact us with your concerns.
The Warehouse serves the wider community throughout New Zealand by providing our customers with the choice of product they may wish to purchase. We aim to continually surprise and delight our customers.
Many customers choose to purchase fireworks and enjoy sharing the experience with family and friends whilst others do not. We provide these choices and do so within the boundaries of legislation that covers retail organizations and fully appreciate our customers' have that choice.
We do provide our customers with safe, low noise options which are more considerate to animals, as well as the all-important safe handling instructions, and safety equipment for their use wherever necessary. As a dog owner myself I appreciate your concerns but equally as a responsible pet owner I ensure my dog is kept safe and inside during this period.
Fireworks are still very popular and engaging and customer demand is always significant at this time of the year. However, we continually review product ranges, feedback and demand to ensure we are providing the right kind of product mix and choice to our customers.
Thank you again for reaching out to us, we appreciate your comments and feedback.
Yours sincerely
Nick Grayston
Group Chief Executive Officer
Our cattery has a full capacity of around 75-80 cats. There are of course several other catteries throughout the country of similar size or larger; some have staff, some don't.
When voicing despair over the sum of my annual wage bill, (a sizeable slice of our income goes in wages), I have received or overheard comments like:
"I can't understand why you need so many staff, we don't", or, "I can house that many cats and I do all the work myself".
I find these comments interesting and somewhat perplexing as I try to imagine myself operating this cattery solely on my own. Yes, I'd save lots of money, nevertheless we have set the bar high and I would not be able to maintain those standards alone.
Although we are not often running at full capacity, I would not attempt to care for even 40 cats on my own and I have to be prepared to pay the price for that.
The procedures and staffing considerations we have in place at Ashley Boarding Cattery are there for a reason. So that we can provide your cat with the absolute best care possible.  I don't have eyes in the back of my head, I am not a machine; I cannot possibly give every cat the care and attention they deserve; and more importantly what our customers are paying for and expect for their cat, solely on my own. So it goes without saying that good quality staff are invaluable to me.
Depending on the number of cats in residence, I will have at least one staff member with me each day; sometimes two staff depending on cat numbers and work load.
Along with feeding rounds, keeping litter trays clean at all times takes effort. On top of this, each cats unit receives a full service every day. Cleanliness is not the only or main reason we carry out this task; we are also spending time with the cat, making a fuss of them, observing their behaviour, checking for parasites, any signs of stress or illness; are they eating and drinking normally; toileting normally; are they happy and relaxed?
Easy to miss signs if you're in a hurry or on your own; here we pride ourselves on caring for every cat as if they were a member of our very own family. Every unit and every cat is checked several times a day. Perhaps a brushing is required, medication, heat pad, special meal; and of course there is answering the phone and greeting our customers, the list goes on.
Cat welfare is paramount and I know that without the help of my staff, performing all these duties on my own would be detrimental not only to the animals in my care, but also to me.
The photo is of our Vet Nurse Stacey with one of our much loved guests Freddie, a handsome Burmese.
Back in the late seventies, when I was a rebellious teenager, I left home to live with my then boyfriend. Certainly not the done thing in those days, but nevertheless, off I went and we set up home in an old villa by the Dunedin Botanical Gardens. To make our new home complete, one weekend we paid a visit to a local animal shelter and came home with an old dog called Smudge and a small kitten we named Blotch.
As Blotch grew, he and Smudge became the best of buddies and almost inseparable. They slept together, played together, went for rides in the car together, and ate meals together and so on.
Our Villa had a very long hallway and one of their favourite games was to chase each other from the living room at one end of the hallway to the bedroom at the other end. The chase game would keep them (and us) amused for a considerable period of time, until exhausted, they would retire to their bed for a nap together.
One long weekend, my boyfriend and I decided we would take a trip to Christchurch to visit relatives. We could take the dog with us but not the cat. Blotch was about six months old by now. I had seen a cattery advertised not far from us so we decided to book him in. Being so long ago now, I do not remember the exact location or the name of the cattery, but I do remember an old shed with lots of cats running around together. The door was opened and in went Blotch. We drove off leaving him in the company of all his new "friends".
Four days later, we collected Blotch from the cattery and happily settled back into home life in our dilapidated old villa.
Within a few days we knew something was terribly wrong with Blotch. He had no energy, wouldn't eat, and was vomiting, hanging over his water bowl but not drinking.
I rang a Vet and explained the symptoms. The nurse immediately asked "has he been in a cattery lately"? Yes. "Has he been vaccinated"?
VACCINATED???? What are you talking about…..I knew nothing about cats having to be vaccinated!!!
The nurse then told me there was nothing they could do for him and he would likely die soon. And that's pretty much what happened. The next day little Blotch died of "cat flu".
We were devastated, angry and upset. Why did the cattery not tell us Blotch needed to be vaccinated? Even worse, why did they take him unvaccinated?
We buried little Blotch under a rose bush in the back garden.
Smudge lay quietly on his bed; you could almost see the tears in his eyes. He knew Blotch was gone, he just didn't understand why. A few days later we caught Smudge out in the back yard; he had dug up the rose bush and was frantically digging, trying to get to his best friend. It was one of the most heartbreaking things I have witnessed.
Dogs & cats grieve and feel loss just the same as humans. The degree to which they grieve, and the recovery time, will vary with each animal.  All we can do as owners is to be there for them and help as best we can.
Lately we have had a couple of cats staying with us at Ashley Boarding Cattery who have lost their long-time best buddy and playmate.  We always give them a teddy bear for company and lots of extra cuddles and attention.
I also thank god that standards and times have changed in boarding facilities since the seventies. You would never be allowed to place your cat in a boarding cattery now without a current vaccination.
I have encountered this problem a few times over the last few years, as rather bemused; I look at owners on the other side of the counter waiting for me to pull a solution out of thin air for their unvaccinated feline. Lucky for them I can……………….. In our purpose built quarantine building.
Does your cattery have adequate quarantine facilities? Have you ever asked to see them? What happens to your cat if it gets sick while at the cattery? Where would it be housed away from the other cats?
Infectious diseases are a threat to any boarding facility no matter how clean and how well run. A responsible cattery owner will ensure they have separate, comfortable quarantine facilities where a sick cat can be housed and properly cared for. Most cat illnesses are highly contagious so it is imperative that the cat is isolated as soon as any illness is discovered and appropriate veterinary treatment is sought.
Many cat owners don't realise that vaccinations do not provide 100% protection against infectious diseases in a pet boarding environment. Owners should understand that the risk of their cat developing cat flu is only reduced by regular vaccination, and will only lessen the severity of the disease if contracted. There are no drugs that will kill the viruses, so treatment is aimed at alleviating symptoms until the cat recovers of its own accord.
Stress in pets when separated from their owners is one of the major triggers for illness. It is thought that around 50% of stressed boarders will shed the herpes flu virus within 2 – 10 days of being at the cattery.
Another known fact is that most cats will be carriers of the herpes virus especially if they have come from a breeder or shelter. These "silent" shredders look outwardly normal, have been fully vaccinated and are yet highly infectious to other boarders.
Feline Herpesvirus and Feline Calicivirus are both causes of cat flu and are spread via both direct contact (eye, nose and mouth discharge), or indirect contact (food/water bowls, bedding, grooming brushes, litter trays, clothing). One of the reasons I am vehemently against communal catteries. It is totally irresponsible to be boarding cats in a communal environment. A communal environment is stressful to cats. Stress causes illness.
In New Zealand the AsureQaulity Cattery Code of Practice recommends that approximately 10% of boarding capacity is made available for quarantine. A separate building is preferable.
Ashley Boarding Cattery has brand new warm and comfortable quarantine facilities in a separate two room building away from the main cattery. Six units in total: four in one room and two in another; purposely built this way so that we can house perfectly healthy, unvaccinated cats away from sick cats.
As a cat owner, boarding your cat at a reputable facility reduces the risk of illness to your cat enormously, however it is also beneficial to all involved if owners also understand a little about how vaccinations work and the basic characteristics of feline diseases.
This has absolutely nothing to do with Cats, but one of the cool things we did on our free day after attending the PIAA Conference in Cairns, was to visit the Bat Hospital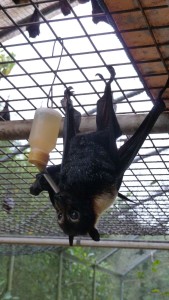 near Atherton in the Tablelands.
As navigator of our self-drive tour through the Tablelands, you can imagine my excitement when reading the map, I discovered the Bat Hospital. I love Bats or Flying Foxes as they are sometimes referred to. So this was absolutely a must see. I adore their cute little faces and they way they wrap their wings around their bodies like a blanket.
I promptly phoned ahead and booked us on the 4pm tour.  On arrival we were greeted by an American volunteer who was somewhat perplexed by Steve's sense of humour. His comment "Well we're here, show me where I go to book her in", clearly went over her head.
The Bat Hospital rescues several hundred injured Bats every year. Most can be nursed back to health and then returned back to their colony. However some are too injured to return to the wild and these Bats stay permanently at the hospital. Most have damaged wings as a result of being caught in barbed wire and cannot fly.
Some are caught in nets and a percentage are also brought to the hospital as a result of cat attacks, so I guess in a way, the story does have a little bit to do with cats. The hospital also provides a sanctuary for Bats that are being retired from Australian Zoo's.
A tour of the facility costs $20 per person which goes towards the colossal yearly cost of running the hospital. Fruit is by far the greatest expense, costing over $7000 per year to feed the recuperating bats, let alone all the other expenses. The volunteer program also contributes to the fundraising. The thought of volunteering briefly crossed my mind until I heard about the Huntsman spider living in the volunteer accommodation. Snakes I can do, but hairy eight legged spiders bigger than my hand ……..no bloody way!
Anyway, back to the Bats. The hospital is at its busiest during tick season October to December. Around 500 orphaned pups arrive at the hospital during this time, their mothers having died through tick paralysis. Bats struck down with tick paralysis have to be rescued very quickly and hospital workers/volunteers try to search colonies twice a day. A paralysed bat is quickly preyed upon by flies that lay their eggs on the body. Unless rescued, maggots would start eating the bat alive……..a most horrendous way to die.
I could go on, but for those of you that are interested; the hospital has a fantastic website packed with pages of information and great photos. http://www.tolgabathospital.org/
As a matter of interest, New Zealand also has native bats; the Long-tailed Bat and the lesser Short-tailed Bat. Both are critically endangered.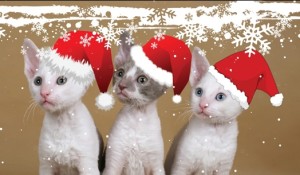 "What do you mean, there's no room???"
By now most reputable boarding facilities will be booked out for Xmas and have long waiting lists as we do here. At Ashley Boarding Cattery if you haven't booked your cats Xmas vacation by mid-Feb at the latest, you've pretty much missed out.
I am now getting frantic clients asking me "can I recommend another facility". My answer is NO. I will not recommend something I have not seen. What I will do however, is offer a list of suggestions, recommending to clients that they go and do their own inspection and due-diligence.
Understandably, not everyone has the luxury of planning holidays twelve months in advance and there will always be people rushing round at the last minute looking for a place to house their cat while they are away.
We all know what happened last Xmas with a certain cattery in central Christchurch. It was in the news and all over social media. Sadly, while our industry remains unregulated, backyard catteries will continue to "pop-up".
As a cat owner, it is your responsibility to decide if a facility is of a standard where you are happy leaving your beloved pet in their care. I personally am of the opinion that no last minute holiday is worth the welfare of your family pet.
That said; here are a few considerations that clients should be taking into account when looking at boarding facilities.
a). SIZE and DESIGN of units. Are they spacious, sunny, quiet, is there a view. What is provided in the unit – bedding, enrichment items?  Are there adequate sneeze barriers between units (I myself do not agree with communal catteries but as they currently remain legal in New Zealand, it comes down to personal choice).
b). SECURITY. Are entrance ways double-doored.  Adequate locks on cattery units. Windows secure. Are there fire/smoke/burglar alarms? Does the owner/manager live on site – very important; don't assume that just because there is a house on the property, that the occupants of said house are associated with the boarding facility.
c). KNOW EXACTLY WHERE YOUR PET WILL BE HOUSED; I cannot stress this enough. Make sure you are allowed to accompany your cat to their unit and help settle them in. If you are asked to leave your cat at reception – WALK AWAY, this is a huge red flag. In turn, if your cat is waiting for you in reception when you come to collect, that should be another red flag. If you are a little uneasy about what may be happening to your pet while you're on holiday, ask a friend/relation/neighbour or workmate to go and visit your cat. They should be able to turn up unannounced during public opening hours and visit your cat in your cats unit.
d). MEET OWNER & STAFF. Discuss any special needs your cat may have; diet, medication, attention, grooming, heatpad etc. Make sure you feel completely comfortable and at ease with the whole setup. And here's another important point. No one staff member should be looking after more than 25-30 cats maximum; if they are, you would surely be wondering, how much attention is my cat actually getting.
I hope this has been helpful…………..the important part ie. the final decision, is of course totally up to you, the cat owner.
It can be very distressing watching your cat or dog have a seizure or an epileptic fit, especially if it has never been witnessed by you before and you don't understand what is going on.
Many years ago now, I owned a little black cat called Whoopi. (Named after the actress Whoopi Goldberg). I found her in the middle of the driveway one dark night; a tiny kitten no bigger than the palm of my hand that had obviously been dumped. I lived in a rural district back then and the dumping of cats was quite a common occurrence in our area.
My Doberman, Takoda, was also a young puppy at the time and Takoda and Whoopi would play together for hours. Takoda had this awful habit of picking Whoopi up by the tail and swinging her around. Great fun for both it seemed as Whoopi would always come back for more.
Nonetheless one day disaster struck as Takoda launched Whoopi into a helicopter swing a little too close to a concrete step. Little Whoopi's head smashed into the step and she dropped to the ground dazed and shaken. After a few seconds, a more than likely concussed Whoopi picked herself up and wandered off.
In hindsight, having witnessed this dreadful incident, I think this may have been the reason why, as Whoopi grew older, she started having epileptic type fits. Takoda had probably, inadvertently caused her brain damage.
The first time I saw Whoopi have a seizure, I absolutely freaked!! I totally did not understand what was going on. I thought she was dying. She was unconscious, convulsing violently and frothing at the mouth. The seizure lasted a couple of minutes then Whoopi got up, sat for a second then walked off as if nothing had happened.
I was extremely upset and rushed her off to the nearest Vet. They could find nothing wrong. The seizures and subsequent panicked trips to the Vet transpired a couple of times more, until finally the diagnosis was that Whoopi was epileptic.
Over the following years I learnt to deal with the seizures and not panic. If I happened to be on-hand, I would go to Whoopi and stay with her, moving her safely away from any furniture or objects which could harm her. I would comfort her and wipe all the drool and saliva off her body and see her happily on her way again.  Whoopi lived until around nine years of age and she also became blind near the end of her life.
Having experienced this type of illness with Whoopi all those years ago put me in good stead for what happened at the cattery recently.
We were looking after a diabetic cat called Lily. Lily is about thirteen years old and has a unit of insulin twice daily. I let Lily out her unit for a wander while I sorted her medication and evening meal. As I turned from the food trolley, there was Lily in the corridor having a violent seizure. I calmly went to her side and waited until the seizure stopped and Lily walked off seemingly none the worse for wear. Arrangements were then made to have Lily seen by her Vet.
So dear Whoopi, may you rest in peace, thanks to you I did not panic.  So…. .To summarise;
Stay calm!
Make sure your pet is a safe distance away from furniture or sharp objects.
Keep your hands away from your pet's mouth and paws.
If your pet is on a bed or couch, make sure they do not fall.
Keep other animals and children out of the area.
Observe your pet closely so that you can give your Vet as much information as possible.
There are many conditions which may cause your pet to have a seizure so seek a Veterinary consult as soon as possible. Pro-longed or repetitive seizures can be fatal.
There would no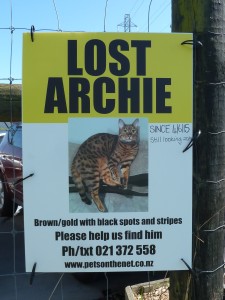 t be many people in both the Christchurch and North Canterbury areas that don't know this beautiful boy is missing. Archie is a two and a half year old Bengal and has been missing from his home in Ohoka/Manderville since the 4th June 2015.
The efforts his owners have gone to in order to discover his whereabouts are above and beyond. The giant size posters everywhere are simply brilliant. Thousands upon thousands of motorists must have seen the "Lost Archie" poster. It sticks in your mind, which means the poster is doing its job.
The owners have also advertised on www.petsonthenet, www.trademe, www.neighbourly, https://lostpetfinders.co.nz/pets/21245, Facebook, distributed flyers, emailed Vets and local schools, advertised on supermarket and community notice boards, door knocking, newspapers, SPCA, Cat Care, Council and rubbish contractors , conducted endless searches throughout their neighbourhood.
No stone is being left unturned in their quest to find out what has happened to Archie. You really get a true sense of how much Archie is loved and missed. How devastating it must be for them as it appears Archie has simply vanished without a trace.
There will be many pet owners out there who have suffered the same fate as Archie's family. Pets go missing all too frequently.  One preventative measure all pet owners should have in place is to ensure their pet is easily identifiable, should they get lost. Address tags on collars are one way, but collars can come off or be removed, so the best way is to have your pet micro chipped. Some local Councils will do this for free, or you can have it done at your Veterinary Clinic. If your pet has a microchip, there is a far greater chance they will be returned to you if found. There are two main microchip databases, the New Zealand Companion Animal Register and the Australasian Animal Registry. Your pet should absolutely be registered on one of these databases. Owners also need to ensure their contact details on the database are kept current. For example: if you change your address or phone numbers; if the animal you've registered has been re-homed.
Most radio stations also offer a free lost and found service so make use of them. Make sure all your neighbours know your pet is missing. Ask them to check garages and locked sheds. Stay calm, make a list and use all the options available to you, just as Archie's owners have done above. Don't give up hope. Some pets have been known to find their way home after many months absent.
I have stated many times that owners are obligated on behalf of their pets to thoroughly check out a boarding facility prior to booking in their pet. I stand by this and encourage it always.
Last Sunday evening a little after 5pm, I was about to start feeding our guests when a young couple arrived impromptu and asked to look around our facility. I readily showed them around, happily answering all their questions. Subsequently, this couple took up nearly one hour of my time during what is a very busy part of the day.
Not only did they ask to see the whole facility and the units where their cat may be staying, but they wanted information on diet, food provided, exercise, attention given, toys, bedding, my staff, my own background, heating, cleaning procedures, disinfectant used, how often were litter trays cleaned, cattery charges. They looked around the outside and at the garden. It felt somewhat akin to an interrogation.
These people were looking for a suitable cattery for their very special Abyssinian kitten and as a result had viewed several boarding catteries over the weekend. They would not be rushed into making a booking, stating they wanted to think about the options available to them; (The right thing to do).
The couple finally left and I felt mentally exhausted…….and I was now running an hour behind time! However, none of that matters. What matters is that the very next morning, they rang and booked a unit for their kitten, saying how impressed they were with our facility, apologising for the time they took up and all the questions.
NO NEED to apologise…….I applaud them.  What they did is nothing short of what every pet owner should be taking the time to do when choosing a boarding facility. Know what you're looking for. Know the standard you are prepared to accept. Take the time to go out there and find it. Your pet will be the better off for it and you, the owner, can relax while away on holiday.
As for our cattery, a little effort goes a long way and we are confident that this little boy will holiday with us for the remainder of his lifetime.